Pan Fried Largemouth Bass with Garlic Herb Sauce
---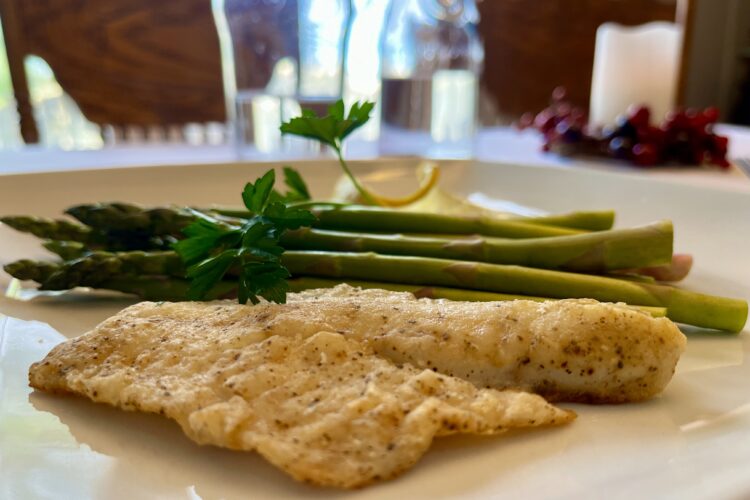 Ingredients
4 largemouth bass fillets
salt
ground black pepper
1/2 cup flour
2 Tbsp olive oil
4 Tbsp butter
Tbsp sliced garlic
3 Tbsp fresh Italian parley
1 lemon
---
Directions
Lightly season skinless fillets with salt and ground black pepper. Let rest for 15 minutes.
While fillets are resting prep ingredients and set aside. Measure out 1/2 cup, slice garlic, and chop fresh parsley. Cut one lemon into half. Take one half and cut it into 4 wedges.
Heat a sauté pan on medium-high. When the pan is hot, add 2 Tbsp of olive oil.
Coat the fillets with flour. When the oil is hot place the fillets in the sauté pan. Pan fry for 2-3 minutes and then flip.
While the fish is pan frying prepare the garlic herb sauce by melting 4 Tbsp of butter in a small saucepan over medium heat. When the butter is hot, add garlic. As the garlic starts to turn, light golden brown add the parsley and remove from the heat. Carefully squeeze the juice from ½ a lemon into hot butter. Season with salt and pepper to taste. Set aside.
Pan frying fillets will take about 3 minutes per side. When fillets are golden brown on the outside, opaque on the inside, and the internal temperature is 145°F they are done and ready to serve.
Serve fillets with a wedge of lemon and drizzle with garlic herb butter.
Substitution Options
Substitute 3 tsp dried parsley for 3 Tspb fresh Italian parsley.
Substitute other types of bass, like hybrid striped and striped bass, for largemouth bass.